COVID-19 Update
St. Joseph's Healthcare Hamilton is beginning to reintroduce surgical and outpatient services slowly using a gradual, phased approach. Some individuals, based on the severity of their condition and care needs, are being scheduled for procedures and treatments.
If you are a patient, your care team will contact you with more information when you are rebooked or booked for your treatment.
If you have concerns, please call your family physician. If there is an emergency, please call 911 and go the hospital immediately. If you have an urgent issue, please go to an urgent care centre. If this is a mental health emergency, call 9-1-1, the Crisis Outreach and Support Team (COAST) at 905.972.8338 or online at coasthamilton.ca; go to your nearest hospital Emergency Department. St. Joseph's Healthcare Hamilton has Emergency Psychiatry Services at 50 Charlton Avenue East, Hamilton.
We are doing our best to serve all patients as quickly as possible, while ensuring the safety of our staff, patients and community. Thank you for your continued patience.
Click here for more information about your appointment and the reintroduction of services.
What this Service does…
Caring for a loved one struggling with mental illness or addiction issues can bring unique challenges for family members and friends. With a welcoming presence near the Main Entrance of West 5th Campus, the Family Resource Centre (FRC) offers tailored information to help family and friends in their supportive role.

Visitors can borrow a book, magazine or DVD for two weeks or longer, obtain free educational brochures and flyers, or browse online resources on two internet-ready iPads.

The Family Resource Centre was opened through the generous support of donors who recognized the need for such an important and unique support service in our community.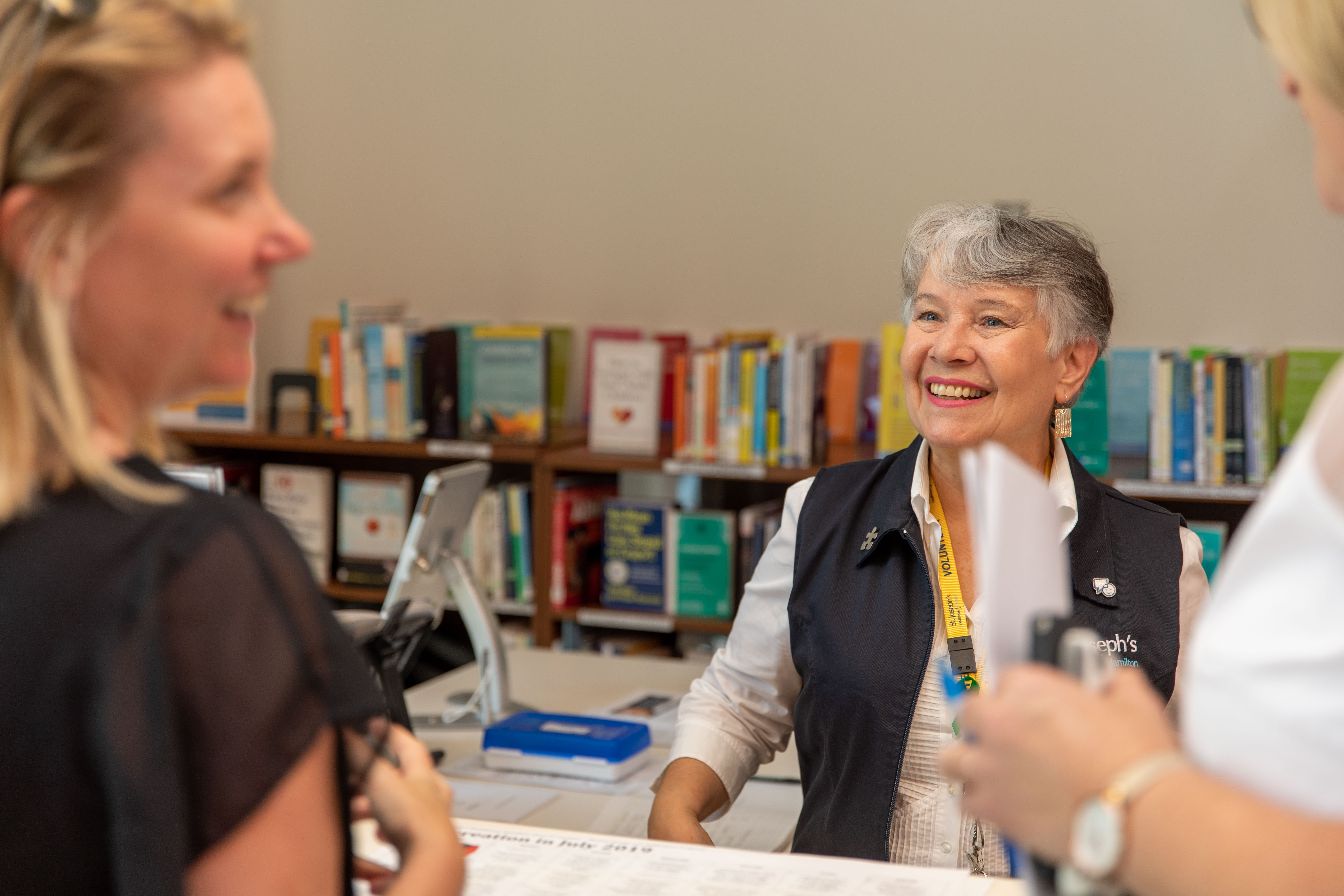 How this Service helps…
Borrow from over 200 books, DVDs and magazines. Learn about mental health, mental illness, addiction, and recovery through inspiring memoirs, step-by-step workbooks, illustrated magazines, self-help guides, captivating fiction stories and more.
Navigate St. Joes. Find information about the Mental Health and Addiction Program at St. Joseph's Healthcare Hamilton, including the location of various clinics and information about patient programs.
Look online. Two internet-connected iPads are available for family members and friends to browse online resources.
Find help in the community. Learn about community organizations, free events, education opportunities, support groups, and recreation programs.
Talk to someone that understands. Talk to our volunteers who have lived experience as a parent, partner, friend or close relative supporting a loved one with mental illness or addiction issues.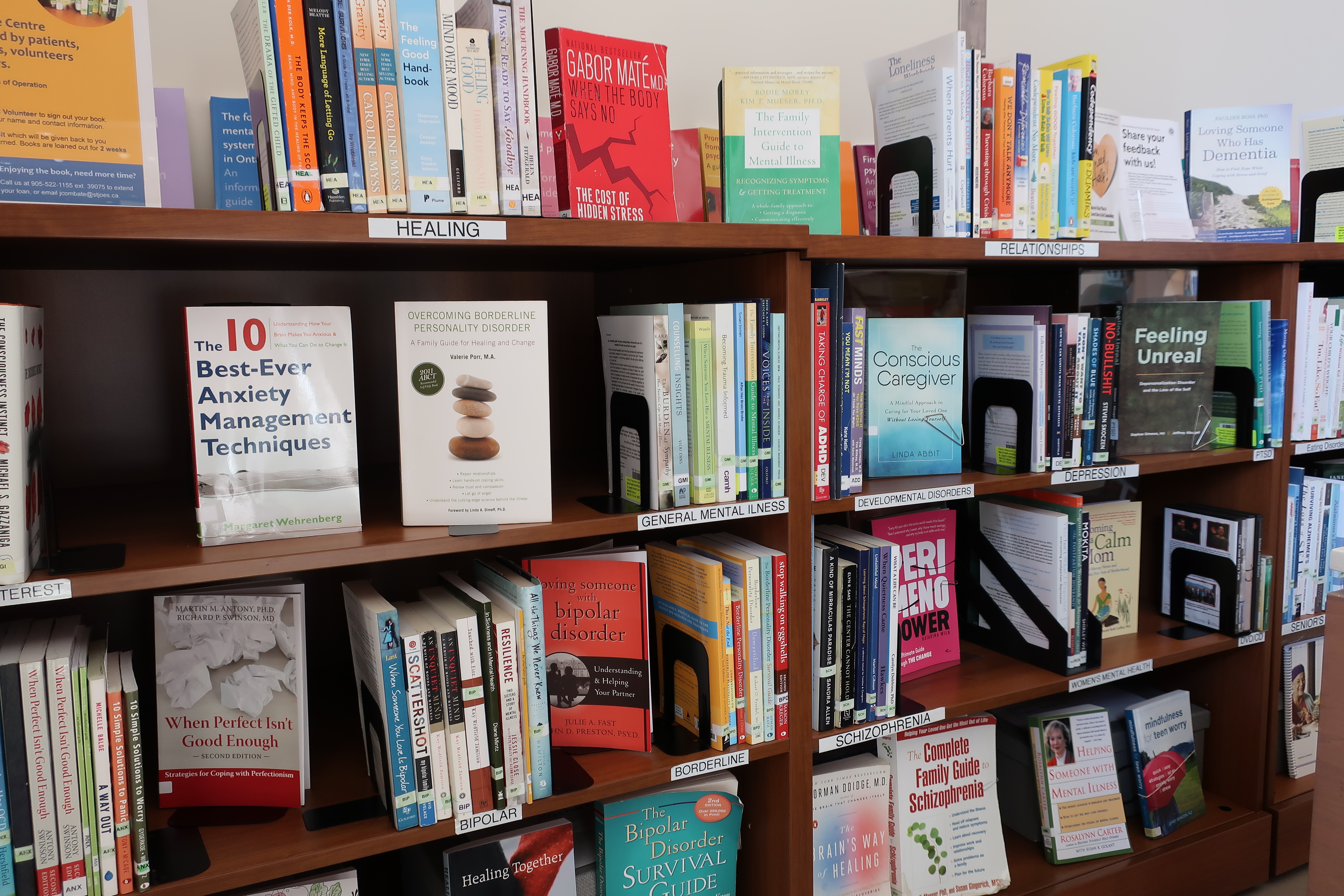 Resources
The Family Resource Centre has a collection of over 200 books and hundreds of brochures. Our materials cover topics regarding mental health, mental illness, addiction, and recovery. They are selected from best-seller lists, community organizations and from experts in the field. Below is a list of topics our collection covers:
Alcohol and substance use
Alzheimer's disease
Anxiety
Bipolar Disorder
Borderline Personality Disorder (BPD)
Children's books educating about mental illness / substance use
Cognitive Behavioural Therapy (CBT)
Communication strategies
Depression
Developmental Disorders (ADD, ADHD, Autism)
Dialectical Behavioural Therapy (DBT)
Fiction stories related to mental illness / substance use

Grief and loss
Memoirs
Mindfulness
Panic attacks
Perimenopause & Menopause
Post-partum Depression
Post-traumatic Stress Disorder (PTSD)
Relationships
Self-help
Schizophrenia
Stress
Suicide
Trauma
Workbooks
Search our catalog
Click here to visit our online catalog, or use the search feature below to browse our library collection. If you would like to place a resource on hold, let us know by calling 905-522-1155 ext. 39075.
Online Resources:
Hours of Operation
The Family Resource Centre is staffed by volunteers. We strive to be open during the hours listed below, however our schedule can vary depending on volunteer availability. Please always call ahead to ensure the FRC will be open during your visit.
Monday: 9 AM – 5 PM
Tuesday: 9 AM – 8 PM
Wednesday: 9 AM – 5 PM
Thursday: 9 AM – 5 PM
Friday: 9 AM – 5 PM
Saturday: 10 AM – 12 PM
After-Hours Returns: A Return Bin is available to return materials when the Family Resource Centre (FRC) is closed. The bin is located at the FRC and books can be dropped through the security gate and into the bin. The Return Bin can be accessed everyday between 6 AM until 10 PM, including holidays and weekends. Please note that deposits can only be refunded when the FRC is open.
Contact
Need to renew a loan? Have a question about what materials are available?
Contact the Family Resource Centre anytime to talk to our volunteers during our Hours of Operation, or to leave a message that will be checked the following business day.
Call 905-522-1155 ext. 39075
Family Resource Centre
St. Joseph's Healthcare Hamilton
100 West 5th Street, Level 1
Hamilton, Ontario L8N 3K7
We are located near the Main Entrance on Level 1.
For more information, please contact 905-522-1155 ext. 36286