Respiratory Rehabilitation
What this program does...
Respiratory Rehabilitation is an education and exercise program that promotes patient self-management skills for chronic respiratory diseases.
This is an 8 week long Day Program where patients come from home three days a week.
In a small group, patients take part in class presentations and therapy taught by members of the health care team in the Respiratory Rehabilitation Program.
The Firestone clinic accepts community referrals for assessment and consultation for admission to this program.
How this program helps...
This is an education and exercise program to help the patient lead a more active life by learning about their lung condition, how to manage their symptoms, prevent hospitalizations and visits to the emergency department and how to conserve energy leading to an improved quality of life.
Your Care Team
Along with your Respirologist, your healthcare team will include:
Registered Dietitian
Registered Practical Nurse
Registered Occupational Therapist
Pharmacotherapy Specialist
Physiotherapist
Physiotherapy Assistant
Clinical and Health Psychologist
Registered Therapeutic Recreation
Registered Respiratory Therapist
Registered Social Worker
Speech Language Pathologist
Other disciplines, as needed
Contact
St. Joseph's Healthcare Hamilton
50 Charlton Ave. E.
Firestone Institute for Respiratory Health
Hamilton, Ontario.
Tel: 905-522-1155 Ext 35811
Fax: 905-521-6182
Referral Process
Family doctors and specialists complete a referral by contacting the Respiratory Rehabilitation Program Intake office at 905-522-1155 Ext 35811.
Preparing for Your Visit
Please bring all your current medications including inhalers with you to your first appointment.
We ask that you do not bring any valuables with you as the hospital cannot be responsible for lost or stolen personal items.
Maps and Directions
Entering through the Charlton Ave E Main entrance the Firestone Clinic is located to the right on the main floor of the Juravinski Innovation Tower.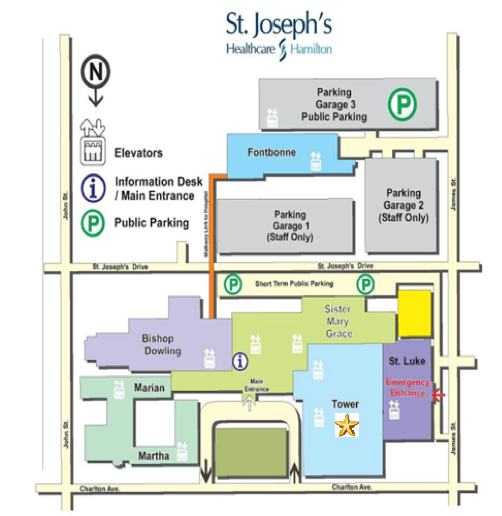 Please click here for maps and directions to our Charlton Campus.
Registration Procedures
Please enter FIRH level 1 and take a number and be seated until your number is called. FIRH is located in the Juravinski Innovation Tower, level 1 close to the main lobby and Tim Horton's.
After Your Visit
Your respirologist will identify whether you are an appropriate candidate for the respiratory rehabilitation program. You will then be contacted by the Respiratory Rehabilitation team to book a pre-start assessment for the program.