Boris Family Centre for Robotic Surgery
How the Boris Family Centre for Robotic Surgery Began
In 2011 the Boris Family (founders of Mountain Cablevision) made a $5 million donation to bring the world's most advanced surgical robot, the da Vinci Si Surgical Robotic System, to St. Joseph's Healthcare Hamilton.
In 2014, the Boris Family made a second $5 million gift to start the first comprehensive robotic surgery centre in Canada, grouping various clinical and research programs under the umbrella of a single institute. In recognition of their $10 million in cumulative support, St. Joseph's established and named the Boris Family Centre for Robotic Surgery.
What this program does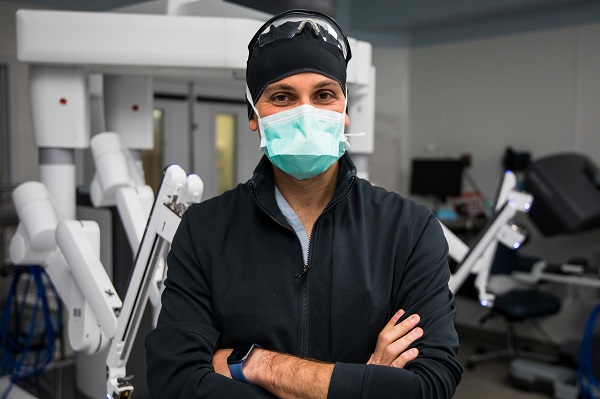 Since 2012, the Boris Family, founders of Mountain Cablevision, have provided more than $11.5 million in donations to enable St. Joe's to purchase the original da Vinci Si Surgical Robotic System, and its successor, the new da Vinci Xi (which arrived in September 2020) and establish The Boris Family Centre for Robotic Surgery at St. Joe's.
The Boris Family's leadership has been augmented by hundreds of other donors who have helped to bring Canada's only orthopaedic surgical robot, the MAKO Rio, to St. Joe's, and provide funding for the sterile instruments needed for every robotic procedure performed. This novel care model is not yet funded by the province, so St. Joseph's Healthcare Foundation continues to raise funds to support this program as we believe in the benefits it offers to the patients we serve.
To date, more than 2,700 patients requiring partial or total joint replacements or living with cancers of the prostate, bladder, kidney, lungs, head and neck have experienced how a surgical robot can make the smallest of incisions that heal quickly, reduce blood loss, and minimize the chance of infection. Patients who undergo robotic surgery often go home within a day or two of their procedures, reducing the time spent in Hospital and freeing up valuable bed space for those most in need of urgent Hospital care.
It's important to remember that not all surgeries can be performed robotically and not every patient is a candidate for robotic surgery. Your doctor can provide the surgical recommendations that are best suited to your particular medical condition or situation.
How this program helps
Some of the benefits of robotic surgery compared to open surgery include:
less trauma on the patient's body
smaller incisions that heal faster and scar less
minimal blood loss and a faster recovery time
the ability to customize joint replacements to the patient's anatomy
the ability to perform precise surgical procedures in small parts of the human anatomy
Watch this video that features our team of robotic surgeons explaining how robotic surgery works and how it's improving outcomes for our patients:
Hear What Our Patients are Saying:
Watch these videos to hear from our robotic surgery patients:
Wald's Story: St. Joe's First Robotic Surgery
Lynda's Story: The Firefly for Lung Cancer Surgeries
Peter's Story: Canada's First Robotic Knee Replacement
Every Robotic Surgery is Part of a Research Study
Every robotic surgery St. Joe's performs is part of an active body of research that is designed to explore, document and share the impact robotic surgery is having on patient care. From randomized clinical trials to literature reviews and more, this research is being used to improve patient treatment and care and to continue the Hospital's advocacy for government funding of robotic surgery. Some of our research areas of focus include:
The Role of Artificial Intelligence and deep learning in Robotic Surgery
Using Infra-Red Technology to Improve Lung Cancer Procedures
The Economic Effectiveness of Robotic Surgery
Comparing Traditional & Robotic Surgery Patient Outcomes & Satisfaction
Using Gait Analysis to Assess Recovery after Robotic Joint Replacements
Your Care Team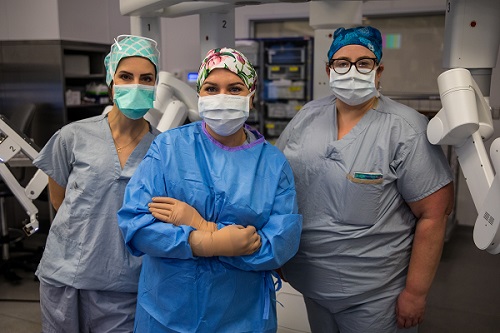 Robotic Surgeons at St. Joe's
Dr. A. Adili
Dr. M. Gupta
Dr. W. Hanna
Dr. E. Matsumoto
Dr. Y. Shargall
Dr. B. Shayegan
Dr. H. Zhang
Robotic Surgery Nursing Team
Elisa Bolognone
Charinjit Williams
Patty Dunham
Mia Kolibash
Josh Baillie
Kathy Jennings
Jessica Wiskar
Pam Currier
Suzanne Sedore
Jill Lamanes
Davina Tuazon
Patri Monterroso
Michele Dodds
Sandra Erdei
Lori McCartney
Tracy Fler
Jenn Boromello
Contact
Dr. Anthony Adili, P.Eng, MD, FRCS(C)
Chief of Surgery
St. Joseph's Healthcare Hamilton
50 Charlton Ave East
Hamilton, Ontario, Canada
L8N 4A6
Tel: 905-522-1155, ext. 36062
Referral Process
Referrals for Robotic Thoracic Surgery should be faxed to the Thoracic Surgery Common Referral Office at 905-540-6564
Preparing for Your Visit
Information will be provided during Pre-op Clinic appointment.
Click here for more information on Preparing for your Lung Surgery.
Maps and Directions
The Boris Family Centre for Robotic Surgery is located at the Charlton Campus, St. Joseph's Healthcare Hamilton
Premium parking is located at the front of the building, off Charlton Ave.
Regular parking is off James St. S., on the south side of the hospital.*
Please click here for maps and directions to our Charlton Campus.
*Please note that patient and visitor parking at St. Joe's Charlton Campus will be temporarily relocated to the parking garage on St. Joseph's Drive (Ramp 1) starting March 1, 2023 while repairs are completed on the parking garage off James Street South. Please click here for more information.
Registration Procedures
Information will be provided during Pre-op Clinic appointment.
Help Fund Robotic Surgery at St. Joe's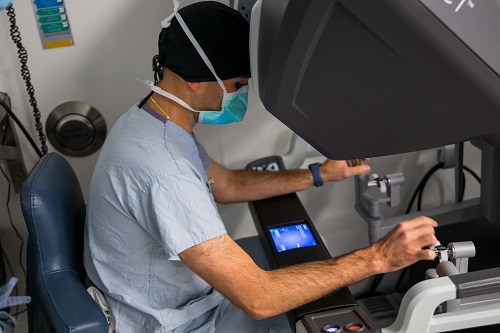 If you're interested in supporting robotic surgery care and research at St. Joseph's Healthcare Foundation, please contact:
Dana Visocchi Rice
Vice-President, Development
St. Joseph's Healthcare Foundation
905-522-1155, ext. 35974
dana@stjoesfoundation.ca