Providing culturally responsive mental health care to BIPOC youth
Jaleesa Bygrave recalls sitting in her high school guidance counsellor's office and being told "university just isn't for you," a message she discovered was also delivered to other racialized students in her school. It was this experience, paired with her father's encouragement to prove the guidance counsellor wrong, that propelled Jaleesa to do just that, achieving her Bachelor's degree and Master of Social Work.
A social worker since 2012, Jaleesa has worked in child protection, corrections, the HIV and AIDS sector, and primary health care. But it's Jaleesa's current role as a social worker with St. Joe's Youth Wellness Centre's YouThrive, a mobile mental health program specifically for BIPOC (Black, Indigenous, People of Colour) youth, where she feels she's making the biggest difference.
"I feel like I am making a big impact on lives. In the past, race was not always discussed in treatment plans. By honing in on their identity, it helps clients understand why they're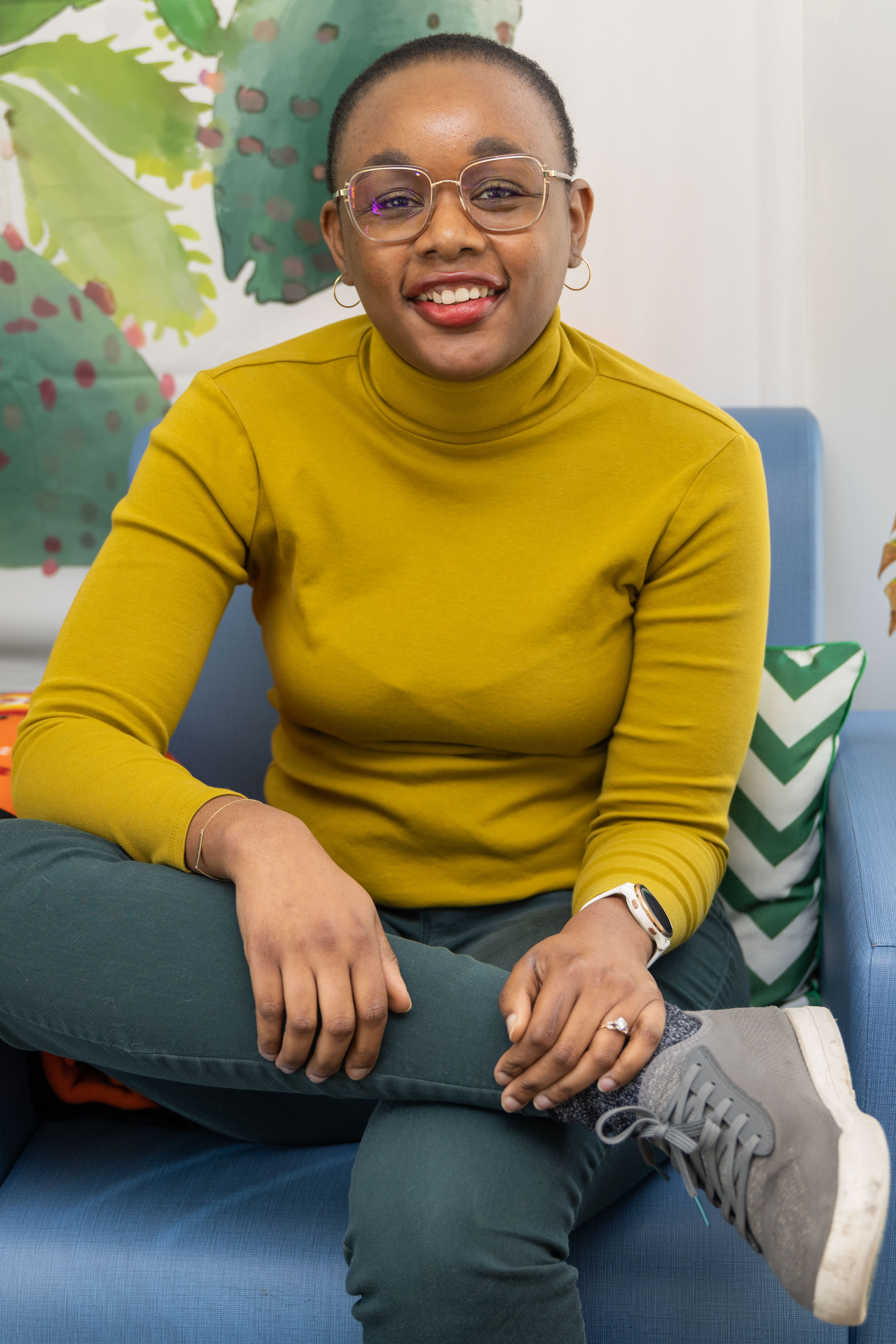 experiencing the mental health challenges that they are, which results in better coping skills. They see themselves in a different light and it helps them to validate, appreciate and celebrate their identity," said Jaleesa.
Providing one-on-one counselling, Jaleesa helps clients work through issues such as racial stress, racial trauma, intergenerational trauma and abuse. She also facilitates groups for BIPOC youth to discuss their experiences and help build cohesion, mutual aid and reduce feelings that they are alone in their experiences.
Jaleesa also enjoys building awareness in the community, working with partners in the Hamilton area to let them know about YouThrive and consulting with agencies that have BIPOC clients but may not know how to best support them in a culture-affirming way.
A way to help level the playing field
The YouThrive program, which Jaleesa describes as a way to help level the playing field for BIPOC youth between the ages of four and 25, is a partnership of community organizations such as the Youth Wellness Centre, Thrive Child and Youth Trauma Services, De dwa da dehs nye>s Aboriginal Health Centre, and the Hamilton Regional Indian Centre.
Jaleesa is one of two therapists to help develop YouThrive in 2021. The innovative program was born out of feedback received from the BIPOC community that there were significant challenges in accessing mental health services that consider racial identity and talk about the effects of racism on mental health. The program has grown over the last two years, including peer support workers, psychiatrists, a psychologist, an occupational therapist and a pathways coach who helps clients get connected to employment and/or post-secondary school.
According to Jaleesa, part of what makes YouThrive so unique is as a mobile program, they meet with clients based on where they are located – whether it be at a local recreation centre, park, library or connecting virtually. This helps reduce barriers to accessing services, and makes the sessions more comfortable and less intimidating.
"I'm so proud of the resiliency and fortitude of the clients that I've been working with because they have experienced significant layered issues in their lives and somehow they're making the time and space to come and see our practitioners. To me, it means that all the time and research that went into developing the program, ensuring that we are being culturally affirming, culturally accountable – the clients are noticing that, they're seeing that and they're feeling that," said Jaleesa.
Jaleesa says the strength of YouThrive is its clinicians' ability to connect with BIPOC youth and attributes that to having a frontline team that consists of practitioners who also identify as racialized, Black, or Indigenous. Jaleesa says this is key in helping to build rapport and trust as clients come to realize that they may have some shared lived experiences.
"The more information I got access to, the more passionate I became"
As someone who is Jamaican-Canadian, as well as having a learning disability, Jaleesa is able to connect with and understand the layered challenges faced by BIPOC youth who may feel left behind.
"I cannot imagine a better person to be in this role," Lisa Jeffs, manager of the Youth Wellness Centre said. "Jaleesa's ability to build and nurture partnerships, her willingness to invest herself into the work, her keen understanding of how racism and other types of discrimination affect wellbeing and her incredible social work skills are all exemplary. We are extremely lucky to have her on the team at St Joe's."
As a child growing up in a predominantly low-income neighbourhood in Toronto, Jaleesa recalls wondering why it was primarily Black and racialized people in her area.
"As I got older, I became more aware of the disparities within society and I knew that I wanted to address that, but I didn't know how exactly. Going to university gave me the language and the knowledge to fully comprehend why disparities exist in our society. From there, the more information I got access to, the more passionate I became around wanting to address them," said Jaleesa.
"I've come a long way in terms of how I see myself as a Black-identifying person. The work I've done to get to a point where I can celebrate and appreciate myself for who I am, and see myself as enough has informed how I support clients and how I engage in my professional work."
For more information about YouThrive, please contact the Youth Wellness Centre.