Dr. John Neary Shares his Story as we Celebrate Bike Month!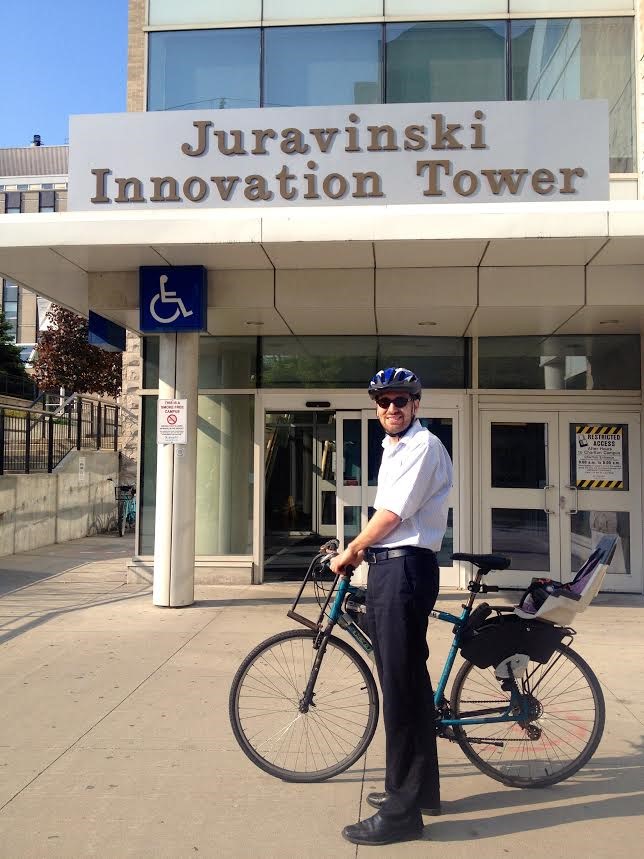 Pictured above: Dr. John Neary, Chief Information Officer St. Joseph's Healthcare Hamilton
Cycling is a time of father son bonding for our Chief Medical Information Officer, Dr. John Neary. "My 4-year old son rides to preschool on the back of my bicycle every morning and that trip is one of the best parts of our day." Dr. Neary shares his story about active living as St. Joseph's Healthcare Hamilton celebrates wellness during Bike Month.
There are a number of reasons why Dr. Neary cycles to work, "I don't live very far from the hospital and considering the time it can take to get in and out of the parking garage at peak hours, cycling is usually faster than driving." says Dr. Neary, "With a busy schedule, cycling guarantees me a little bit of exercise at the beginning and end of each day."
Living a healthy lifestyle is important to Dr. Neary in order to set an example for his family. "I would like to encourage my children to live an active lifestyle and the best way to do that is to model it myself," states Dr. Neary.
Here at St. Joseph's Healthcare Hamilton we are committed to creating a healthy workplace through our Employee Wellness Program that encourages active living and offers learning opportunities for your mind, body and spirit.
Don't forget to join us online for more stories throughout the month!
Twitter: @STJOESHAMILTON
Facebook: St. Joseph's Healthcare and Foundation