Centre for Interventional Radiology and Oncology (CiRO)
What This Program Does
The Centre for Interventional Radiology & Oncology (CiRO) at St. Joseph's Healthcare Hamilton's delivers high quality, innovative, patient focused clinical services supported by an active research environment for both patients already in hospital and those referred by physicians in our community.
CiRO provides minimally invasive image guided treatments or procedures that offer less risk, less pain and less recovery time compared to open surgery. Approximately 50% of patients who come to CiRO are receiving cancer related tests or procedures.
On this page you will find information for patients about preparing for your visit to CiRO for your procedure. Please see the brochures below for download. Maps, directions and contact information are also below. This page also contains information for referring physicians. See our contact information below to connect with us.
The Boris Family Centre for Interventional Radiology and Oncology
Learn more about how the The Boris family's $3.2 Million donation is helping with patient care and innovation. Click here to read the full article.
Learn more about an exciting new form of lifesaving treatment at The Boris Family Centre for Interventional Radiology and Oncology at St. Joseph's Healthcare Hamilton with Dr. Thomas Stewart, Chief of Staff and Dr. Sriharsha Athreya, physician lead at the centre.
How This Program Helps
CiRO provides a vast range of procedures ranging from angioplasty to embolization to radiofrequency ablation of tumours. Most of the procedures are performed using percutaneous approaches, which are image guided. These procedures can replace traditional surgical techniques with lower complication rates than conventional techniques and performed as a day procedure.
Interventional radiology can play a lifesaving role for the acutely ill patient, particularly for the treatment of hemorrhagic emergencies. At St. Joseph's Healthcare Hamilton's Charlton Campus, CiRO has a dedicated on call service to ensure continuous access to emergency treatment.
What is Interventional Radiology?
Interventional radiology
Interventional radiology (abbreviated IR) is a medical sub-specialty of radiologythat utilizes minimally invasive image-guided procedures to diagnose and treat diseases in nearly every organ system. Interventional Radiologists use their expertise in reading X-rays, ultrasound, CT scan and other diagnostic imaging, to guide tiny instruments, such as catheters, through blood vessels or through the skin to treat diseases without surgery.(Pin Hole Procedure)
Interventional oncology
Interventional oncology (IO) is a subspecialty Interventional Radiology of that uses imaging guidance to deliver minimally invasive therapies to patients with cancer. It is considered the "4th pillar" of cancer therapy alongside medical, surgical, and radiation oncology worldwide. Over the last 5 years, significant strides have been made in establishing and progressing the role of minimally-invasive, image-guided procedures for cancer patients. Interventional oncology is a rapidly growing and continuously evolving discipline that collaborates with oncological specialties to provide the best possible patient care and outcomes for those suffering from various cancers.
In this new centralized model, there is one number to call for interventional radiology services, one number for referral and one location for patients and families to locate when they arrive.
Your Care Team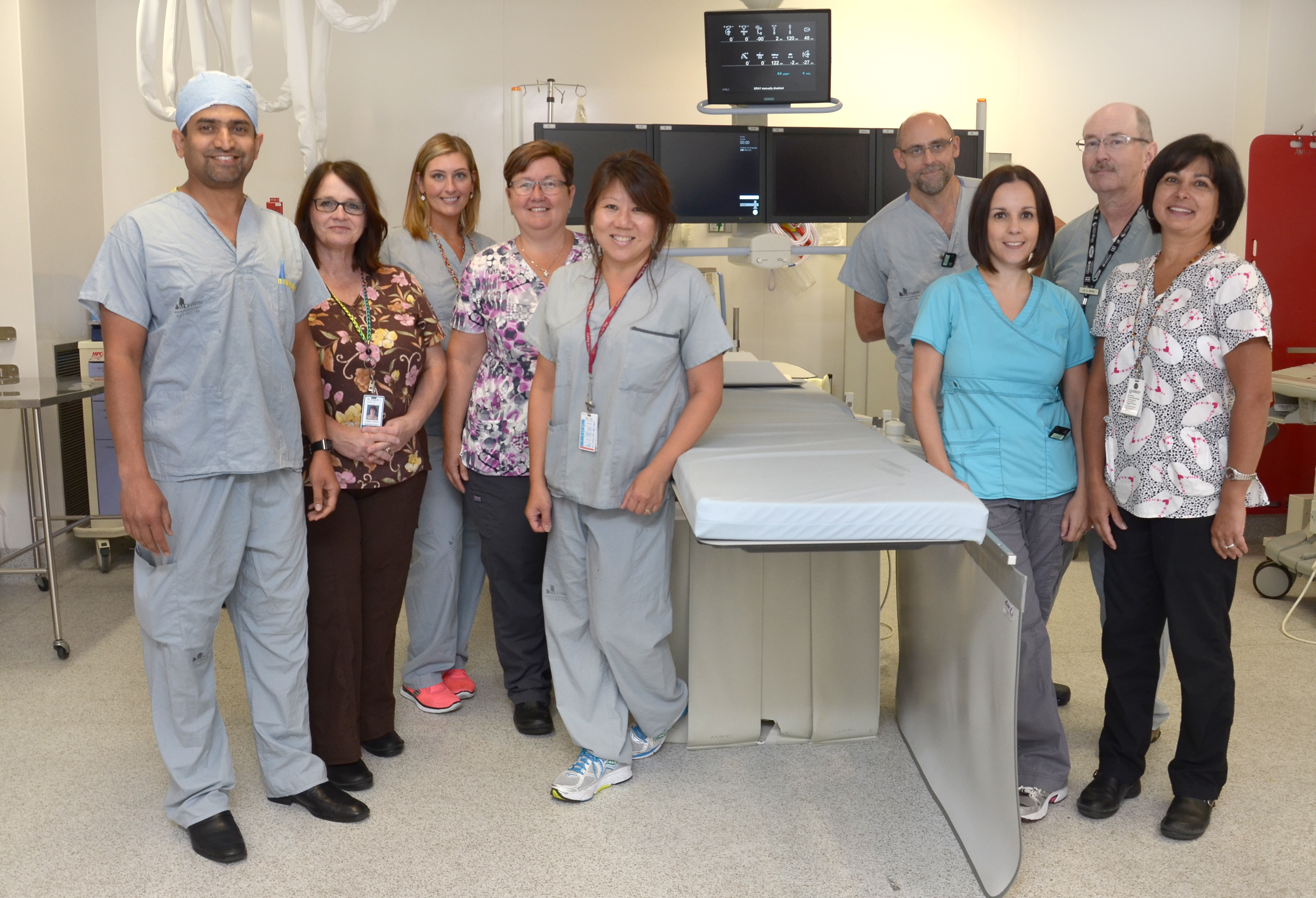 CiRO's team includes specialist technologists, nurses and interventional radiologists working in close collaboration with clinical colleagues; particularly nephrology, urology, vascular surgery, general surgery, thoracic surgery, obstetrics and gynecology and other medical specialties. At any time, you can ask a CiRO team member about your care.
Before Your Procedure
If you are coming to St. Joseph's Healthcare Hamilton's CiRO at Charlton Campus because your doctor has referred you, they may have provided you with special instructions about how to prepare for your procedure.
Below you'll find education brochures categorized by procedure that includes important information about preparing for your procedure and your recovery. Each brochure provides specific instructions about how long to fast, when to take or abstain from medications and how to play an active role in your recovery. If you have any questions about the information in your brochure, please connect with us by calling the number in the contact section below.
Patient Information
Patient Information brochures below. Please contact CiRO if you have further questions or for more information about how to prepare for your procedure.
Contact Us
CiRO (Reception)
Telephone: 905-522-1155 ext. 35387
Fax: 905-540-6576
Maps and Directions
The Centre for Interventional Radiology and Oncology is located at:

St. Joseph's Healthcare Hamilton's Charlton Campus
Bishop Dowling, Level 1, D154
50 Charlton Avenue East
Hamilton, Ontario
L8N 4A6
Information for Physicians
St. Joseph's Healthcare Hamilton's Centre for Interventional Radiology and Oncology (CiRO) includes emergency on call services in hospital, procedures for patients referred by external physicians and an outpatient clinic all located at Charlton Campus.
Below please find a full list of procedures performed by CiRO's team:
Procedures Performed:
Venous Interventions
Venography
Dialysis catheter placement
Venoplasty and stent placement
Haemodialysis access interventions including mechanical thrombectomy
Varicocoele embolisation
IVC filter placement and retrieval
Venous stenting
Venous sampling
Ovarian and pelvic vein embolisation
Removal of intravascular foreign bodies
Leg DVT thrombolysis
CT Guided Intervention
Lung Biopsy
Renal Mass Biopsy
Abdominal Lesion Biopsy
Drainage of Fluid Collections
Renal Tumor ablation
Lung tumor ablation
US Guided Intervention
Liver Biopsy
Kidney Biopsy
Lymph Node Biopsy
Fluid Drainage
Ovarian Cyst Aspiration
Drainage Catheter Placement for Ascites
Gastrointestinal Interventions
Percutaneous gastronomy and gastrojejunostomy insertions
Biliary drainage
Transjugular liver biopsy
Interventional Radiology in Women's Health
Interventional radiologists are able to provide minimally-invasive therapies to an increasing number of womens' health issues such as uterine fibroids, pelvic congestion syndrome, osteoporosis of vertebral bodies, management of deep vein clots (DVTs), and ovarian cyst aspirations. Uterine fibroids are usually benign growths which can be managed by blocking its blood supply in a non-surgical manner under image guidance. Pelvic congestion can be attributed to varicose veins of the pelvis, which can be sealed by IR embolization under image guidance.DVTs and their complications such as post-thrombotic syndrome can be managed by image guided thrombolysis in IR.
Interventional Radiology in Men's Health
Interventional radiologists are able to provide minimally-invasive therapies to an increasing number of mens' health issues such as infertility disorders, varicocele, and prostatic conditions. Varicose veins of the testicles can cause symptoms of pain and infertility and can be managed in IR with minimally-invasive techniques. Prostatic artery embolization offers a non-surgical alternative to treatment of benign prostatic hypertrophy (BPH), which causes lower urinary tract symptoms.
IR in Men is a growing field within IR as a whole and ongoing, interdisciplinary research locally and internationally forms the foundation of practice here.
Centre for Interventional Radiology and Oncology (CiRO) Outpatient Clinic
There is a formal radiology outpatient clinic to follow up with patients who have undergone certain interventional radiology procedures. This assists in the continuing care of the patient. The interventional radiology clinic helps to optimize patient care by providing the interventional radiologist with the opportunity to meet the patient prior to the procedure and to obtain a pertinent history and physical examination. The procedure can be explained to the patient in full and treatment options are discussed.
Addressing the need for pre-procedural labs, radiographs, or referral prior to any intervention reduces the chance of delay on the day of the procedure. Post-procedure follow-up is coordinated through the clinic.
Referral Process
Referring physicians can contact CiRO for a requisition form.
Click here for an outpatient interventional radiology requisition form.
CiRO (Reception)
Telephone: 905-522-1155 ext. 35387
Fax: 905-540-6576
Useful Links and Information
Canadian Interventional Radiology Association
Society of Interventional Radiology (SIR)
For more information on Interventional Radiology in women's health visit the Society of Interventional Radiology's website
For more information on Interventional Radiology in men's health visit the Society of Interventional Radiology's website